A good night's sleep is essential in the backcountry to remain fit and active throughout the day. It is a requirement for you to enjoy your outdoor experience at the full. This makes sleeping pads a must-have item when it comes to packing for a hike.
Sleeping pads work fine for most people. But most pads just don't work very well when it comes to side sleepers. They are often found complaining about their sleeping pads being uncomfortable. And so, the best sleeping pads for side sleepers is one of the most asked questions among hikers.
The reason this happens is that the weight distribution of a person sleeping on his side and a person sleeping on his back or chest is different. The weight of a person sleeping on his back is evenly distributed over a wide surface area.
But the weight of a side sleeper is concentrated on a narrow surface area pressing more firmly against the ground. The pressure is more intensely felt at the shoulder and hip joints.
Related Post: How to Choose the Best Backpacking Sleeping Bag
This results in a night of disturbed sleep and pain in these joints. Intense pressure against the ground also means less insulation and you also feet every pointy thing, rocks, and twigs, beneath you.
Well, here are the top picks for you if you like to sleep on your side.
1. Big Agnes Q-Core Deluxe
Thickness: 4.25 in.
Weight: 1 lb. 7 oz.
R-Value: Rated to 32°F
Dimensions: 72 x 20 in.
Big Agnes Q-Core Deluxe is a plush sleeping pad that has an innovative construction that allows it to maintain comfort regardless of your sleeping style.
The Q-Core Deluxe has a construction that makes it super stable and comfortable as well. The alternating I-Beam construction provides a stable sleeping surface.
That quilt top design is comfortable regardless of whether you're on your side, back or stomach. On the perimeter, the outer baffles have a slight increase in size and they do tend to better cradle you in the center of the pad and help keep you on that pad throughout the night.
Inflation and deflation is a breeze with this pad. You get a dual design valve that fits flat so it doesn't get in the way or cause unnecessary bulk. There's an inflate port and a deflate port.
That inflate port has a small one-way gasket that is essential in sleeping pads these days. As you push air into the pad the air will essentially push back on this gasket causing it to seal up and prevent that air from leaking out.
When you're ready to deflate it, just open up that small dump valve and the air quickly rushes out and the pad is flat in just seconds.
It's always recommended to use some type of accessory inflation device like the Big Agnes Pumphouse Ultra, which would be sold separately. But if you have no choice and you have to inflate this thing manually by mouth, Big Agnes does have an internal antimicrobial treatment throughout the inside of the pad.
Pros: The pad is very thick. At 4.25″ off the ground, you get plenty of cushioning. It doesn't sound like a potato chip bag. This pad will inspire envy in all of your tentmates.
Cons: Takes too much air to fill it up.
2. Big Agnes Q Core SLX
Thickness: 4 in.
Weight: 1 lb.
R-Value: Rated to 32°F
Dimensions: 72 x 20 in.
The Big Agnes Q Core SLX is an improvement over the popular Q Core and the Q Core SL. The pad loses 4.5-ounces over the Q Core SL and 9.5-ounces over the Q Core making it super lightweight at 16-ounces and ideal for all kinds of hiking aside from thru-hiking.
The one-way valve system on the Q Core SLX makes it very easy to inflate or deflate the pad. The button on the valve eases the fine-tuning the pad. The pad can be inflated to 4 inches which helps prevents rocks and pines, on the ground, from making pressure points. This feature makes it a great choice for side sleepers.
The Q Core SLX is a good choice for all seasons and can be used in temperatures below freezing points. The pad has a quilt-like baffle system which along with the thickness of the pad makes it very comfortable.
Big Agnes claims the SLX is 25% more durable than its predecessors. However, it may get small punctures if you use it directly on the ground. If you avoid aggressive inflation though, the Q Core SLX will last you years.
Pros: Packs small, good for 3-season use, lightweight, and comfortable
Cons: Not ideal for cold weather. The material is not very durable.
3. Therm-a-Rest NeoAir UberLite
Thickness: 2.5 in.
Weight: 6 oz.
R-Value: 2.0
Dimensions: 47 x 20 in.
NeoAir UberLite is an inflatable sleeping pad from Therm-a-Rest. This is a seriously lightweight pad but it doesn't skimp on features. It offers 2.5 inches of cushion and an R-value of 2.0, which makes it great for summer backpacking.
This pad weighs between 6 and 12 ounces depending on the size. The pad uses Therm-a-Rest trusted Triangular Core Matrix, which uses two layers of interlocking triangular baffles. This construction gives you a stable sleeping surface and decreases heat loss.
To allow you to dial in your preferred combination of weight and comfort, this pad is available in three sizes.
This sleeping pad includes a stuff sack and a repair kit. It's a thick comfy pad without the bulk. If you are looking for a lightweight sleeping pad for your summer adventures, this pad is for you.
It offers more weight savings than most of the other pads available in the market. Keep in mind that this featherweight phenom isn't as durable as foam pads. So always be prepared for punctures by bringing the included patch kit.
Pros: Ideal for summer backpacking, super lightweight, takes up very little space in your pack
Cons: Not ideal for cold weather, small
4. Nemo Tensor
Thickness: 3.5 in.
Weight: 13 oz.
R-Value: Rated to 35-45°F
Dimensions: 72 x 20 in.
Nemo Tensor is a summer pad that uses layers of metalized film and unique internal construction to give you 3.5 inches of thickness and quiet support while packing down small.
Space frame construction and undulating baffle design make for a comfortable and stable sleep surface great for rolling side-to-side and keeping your elbows off the ground.
The outer surface is covered in 20D fabric to resist punctures. Inside, there are two layers of suspended metalized film. This innovative system means that this pad is suitable for temperatures as low as 35 degrees.
The pad has a zero-profile multifunctional valve that allows easy inflation and fast deflation. Open the valve cover and you'll see the one-way valve. This allows air to flow in but not leak back out making inflation easier. Remove the one-way valve and the pad deflates quickly and completely. This makes it easier to roll up the pad as well. Each pad includes a pump sack to make inflation easier.
The Vortex pump sack works like this. Open the valve cap on the pad. Attach the valve from the pump sack to the pad. Inflate the pump sack and close the roll-top closure. Compress the sack to move the air into the pad. The large volume of the pump sack will quickly inflate the pad. A repair kit is also included to help you deal with leaks or punctures from your dog's claws.
Pros: Large sleeping area, doesn't make noise
Cons: The valves can be a little difficult to open.
5. Sea to Summit Ether Light XT Insulated
Thickness: 4 in.
Weight: 15 oz.
R-Value: 3.8
Dimensions: 72 x 21.5 in.
Ether Light XT uses 4 inches of insulated cushioning to provide you with a comfortable and versatile pad for 3-season use. It features a multi-function valve and included a pump sack that makes setup and takedown fast and easy. Instead of the baffled construction of many sleeping pads, this pad uses a pattern of dot welds to create hundreds of interconnected chambers called air sprung cells.
The Ether Light XT pad uses loops of everyone's favorite tongue-twisting synthetic material called thermoplastic polyurethane. Inside the pad, a mix of materials works to keep you warm.
Exkin Platinum insulation is a metal material that reflects your radiant heat to you while promising to be less noisy than other such metalized films. The other material inside the pad, Thermolite forms a barrier between your body and the cold ground. This combined technology yields at R-value of 3.8 making the pad great for 3-season adventures.
By applying adhesive pillow lock strips to the pad, you can secure Aeros Pillow (not included) to the mat so they don't sneak away in the middle of the night. This pad has a multi-function air valve.
One configuration makes for easy inflation using a one-way valve that doesn't allow air to leak back out as you inflate. Second, by pressing a button on the air valve you can let small controlled amounts of air out of the pad to fine-tune its firmness. A third configuration allows air to flow out quickly. This rapid and complete deflation also makes packing the pad easier.
Pros: Quiet, comfortable, and lightweight
Cons: Heavier than the NeoAir XLite below, expensive
6. Therm-a-Rest NeoAir Xlite
Thickness: 2.5 in.
Weight: 12 oz.
R-Value: 4.2
Dimensions: 72 x 20 in.
The Therm-a-Rest NeoAir Xlite is one of the lightest pads in the market weighing just 12-ounces making it great for ultralight backpacking. The small version weighs just 8 ounces. The pad packs down to the size of a 1-liter water bottle.
The pad has horizontal baffles that are very stable making it comfortable. Therm-a-Rest has also updated the material as there were complaints in the previous models about a "crackling" sound.
The NeoAir Xlite 30 denier nylon is not as durable as others on the market. But it still holds decently and there people who have been using it for years. The pad has an R-value of 4.2 and so does not require a foam pad when used in very cold environments.
There are only two problems with the NeoAir Xlite. First, this is a very expensive pick. Second, the mummy shape lacks the width and many people go for a large size instead of a regular. However, when it comes to long-distance ultralight backpacking, NeoAir Xlite is a great choice.
Innovative technologies, ultralight fabrics, and smart construction make the Therm-a-Rest NeoAir Xlite a great option for those ultralight backpackers, thru-hikers, or just campers who convenience comfort coming in at a super small pack size.
Pros: Lightweight, packs downs super small with no sacrifice of comfort, easy to inflate, and remains perfectly inflated throughout the night.
Cons: It is a little noisy and a bit slick.
7. Therm-a-Rest NeoAir XTherm
Thickness: 2.5 in.
Weight: 15 oz.
R-Value: 7.2
Dimensions: 20 x 72 in.
NeoAir XTherm is the warmest sleeping pad offered by Therm-a-Rest. Over the years Therm-a-Rest has developed a great reputation for making sleeping pads that stand up to their claims warmth and NeoAir XTherm is certainly no exception. You can use this pad on snow and frozen ground and you will not feel any coldness seep through. When you sleep on the warmer ground you'll feel some of your body heat reflected at you.
The regular size NeoAir XTherm weighs 15 ounces and has one of the highest warmth to weight ratios of any sleeping pad on the market.
The XTherm is constructed using a 30D nylon ripstop fabric on the top and a 70D nylon fabric on the bottom. The top fabric has a slightly softer feel to it which is nice if you sleep without a pillow. The bottom fabric is more robust and feels rugged.
Therm-a-Rest included a small 0.6 ounces stuff sack and a larger 1.8 ounces pump sack. The pump sack has a plastic gasket that fits over the valve so you can inflate the pad by pushing air into it instead of blowing into it. It only takes 10 to 12 pumps to fully inflate the pad. By mouth, it takes 20 to 22 breaths to fully inflate.
With an incredible warmth to weight ratio and a lot of innovative design features, the Therm-a-Rest NeoAir XTherm is an ultralight sleeping pad that is certainly to become a go-to option for those 4-season backpackers and campers.
Pros: Super warm, comfortable, durable, packs down small
Cons: The material is crunchy or crinkly. If you squeeze it, it does make some noise.
8. Big Agnes Air Core Ultra
Thickness: 3.25 in.
Weight: 1 lb. 4 oz.
R-Value: Rated to 35°F
Dimensions: 72 x 20 in.
The Big Agnes Air Core series took the market by storm. It came as an alternative to the self-inflating thin pads and at a competitive price. The rectangular shape provides a good length and width to compensate for even large body types. The pad weighs 20-ounces, which isn't heavy but isn't lightweight either.
The pad utilizes a double ripstop nylon face fabric so it maintains the overall lightweight construction of the pad but also does have nice durability and abrasion resistance. The I-beam construction on the vertical baffles gives this pad a full thickness of three and a quarter inches.
Air Core has a two-way valve system with a dedicated inflation and deflation opening. The pad can be inflated to 3.25 inches giving great protection from the rocks on the surface. The 70 denier nylon makes it a durable pad.
However, the Air Core Ultra can lack in comfort owing to its deep vertical baffles and a slippery surface. Although the Insulated Air Core provides more insulation than the regular model, the R-value is still low limiting it to summer hikes only. However, it is a great choice for people who can't afford luxury but still want a comfortable option.
Pros: It is a low volume backpacking sleeping pad that will make you forget you're sleeping on the ground.
Cons: The pad isn't silent when you are adjusting your sleeping position, but it surely isn't loud either.
9. Sea to Summit Comfort Plus
Thickness: 2.5 in.
Weight: 1 lb. 9 oz.
R-Value: 2.5
Dimensions: 72 x 21.5 in.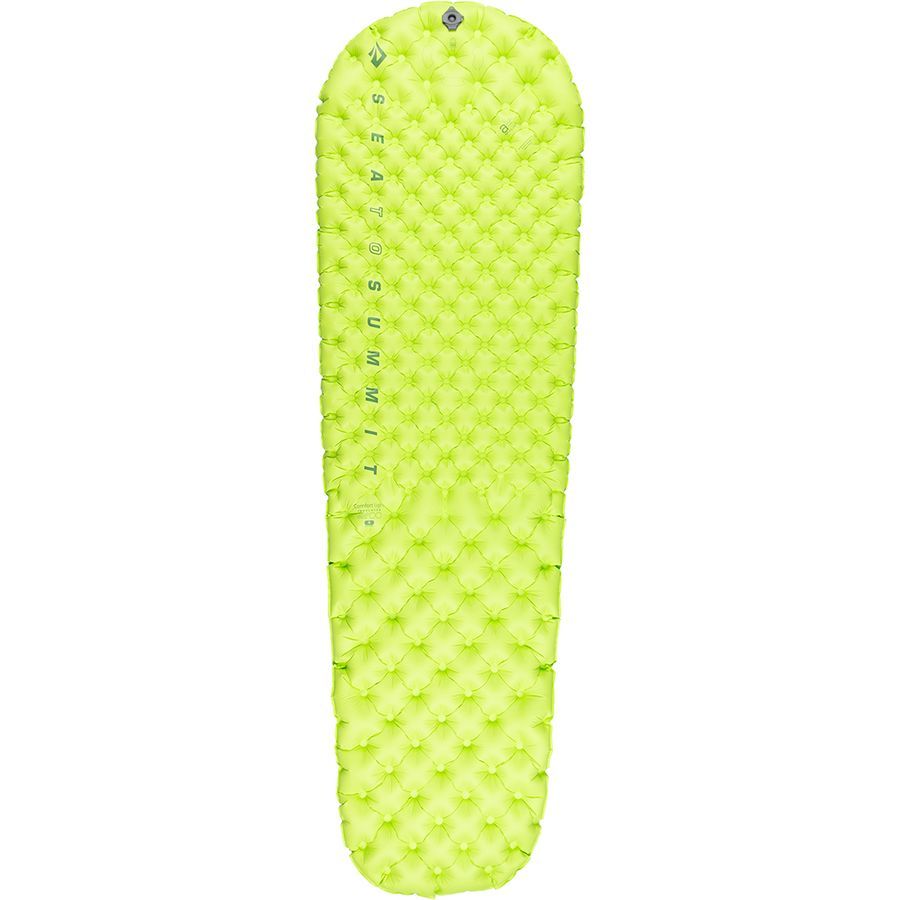 If you are willing to pay a high price for a good night's sleep in the outdoors, then you should pick the Sea to Summit Comfort Plus. The pad has a dual air chamber design that makes it super comfortable and quiet.
The chamber at the bottom allows for firm inflation while the chamber above allows for a soft one making it a great choice for side sleepers. The pad comes with a dry sack pump for hassle-free inflation.
The dual-chamber design also offers durability by making the pad usable even after a puncture. The 40 denier nylon can take a lot of abuse and so the pad can be directly used on the ground. With an R-value of 2.5, this is a pad for summer backpacking that can be used in winters without a worry.
The design of the pad is unique. The air-sprung cells create an extremely stable surface and they adapt the terrain much better than your traditional high volume baffles. You can roll around without getting bucked off your pad and the weight evenly distributes.
However, all this insulation, durability, and comfort come at a cost. The Comfort Plus is heavy on your pocket. But that is not the only place you will feel its weight. It is heavy on your backpack too. The pad weighs more than 25-ounces. But for a comfortable night's sleep, people are willing to pay much more.
Pros: Dual air chambers are redundant, comfortable, warm, stable, and supportive
Cons: Little heavy for backpacking.
10. Klymit Insulated Static V Lite
Thickness: 2.5 in.
Weight: 1 lb. 3.6 oz.
R-Value: 4.4
Dimensions: 72 x 23 in.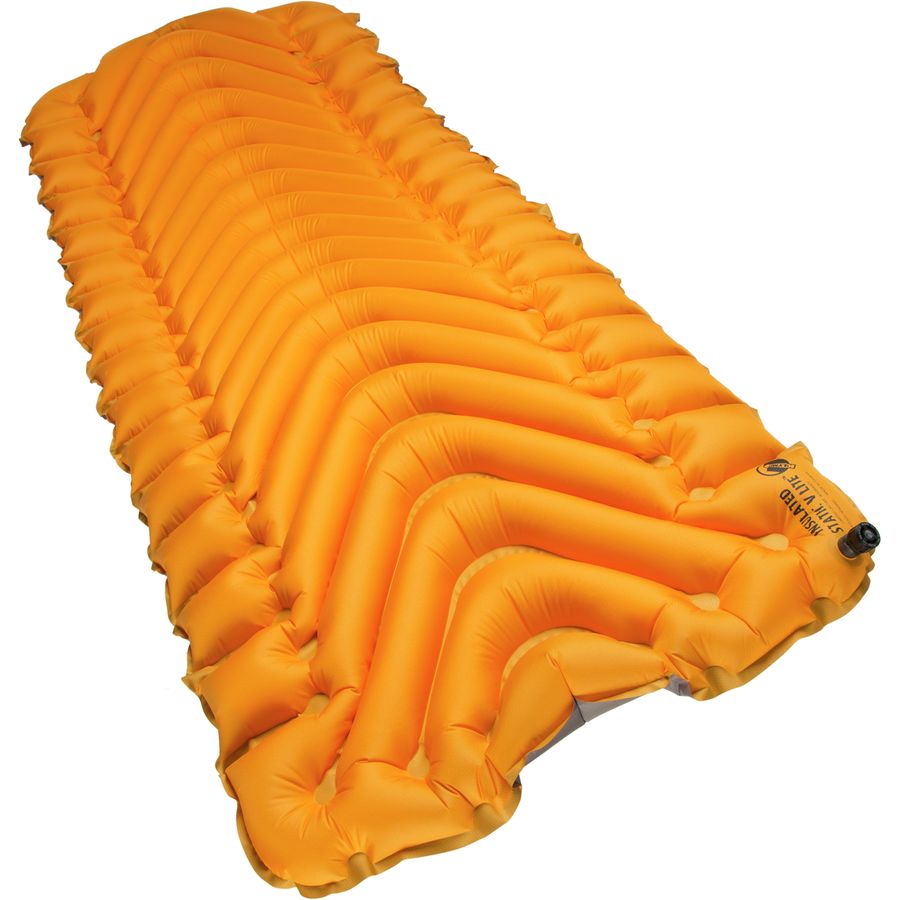 Klymit Insulated Static V Lite was a follow up to Klymit X Frame and is a fairly good contender on the market. Hikers mostly complain that the vertical baffles feel bouncy. While horizontal baffles result in collapsed edges. The V-shaped baffles of the Static V Lite solve both of these problems.
The pad has an R-value of 4.4 which is great considering it weighs only 19-ounce. The high R-value makes it great for camping in all seasons for a very reasonable price. However, for more extreme cold environments, a foam pad can be added for a higher R-value.
The problem with the Static V Lite is that it makes a squeaking sound whenever you move on it. Furthermore, the 30 denier nylon doesn't provide enough durability and so you would need your repair kit often. But if you use the Static V Lite with care, you will find that it can keep up with you for years.
An innovative design, lightweight materials, and enough insulation to perform year-round, the Klymit Insulated Static V Lite is an excellent option for your next camping or backpacking trip.
Pros: This pad doesn't let you slip or roll-off, and it's wider than most of the pads.
Cons: It is difficult to get all the air out and folding and rolling the pad can be challenging.
11. Klymit Static V
Thickness: 2.5 in.
Weight: 1 lb. 2.1 oz.
R-Value: 1.3
Dimensions: 72 x 23 in.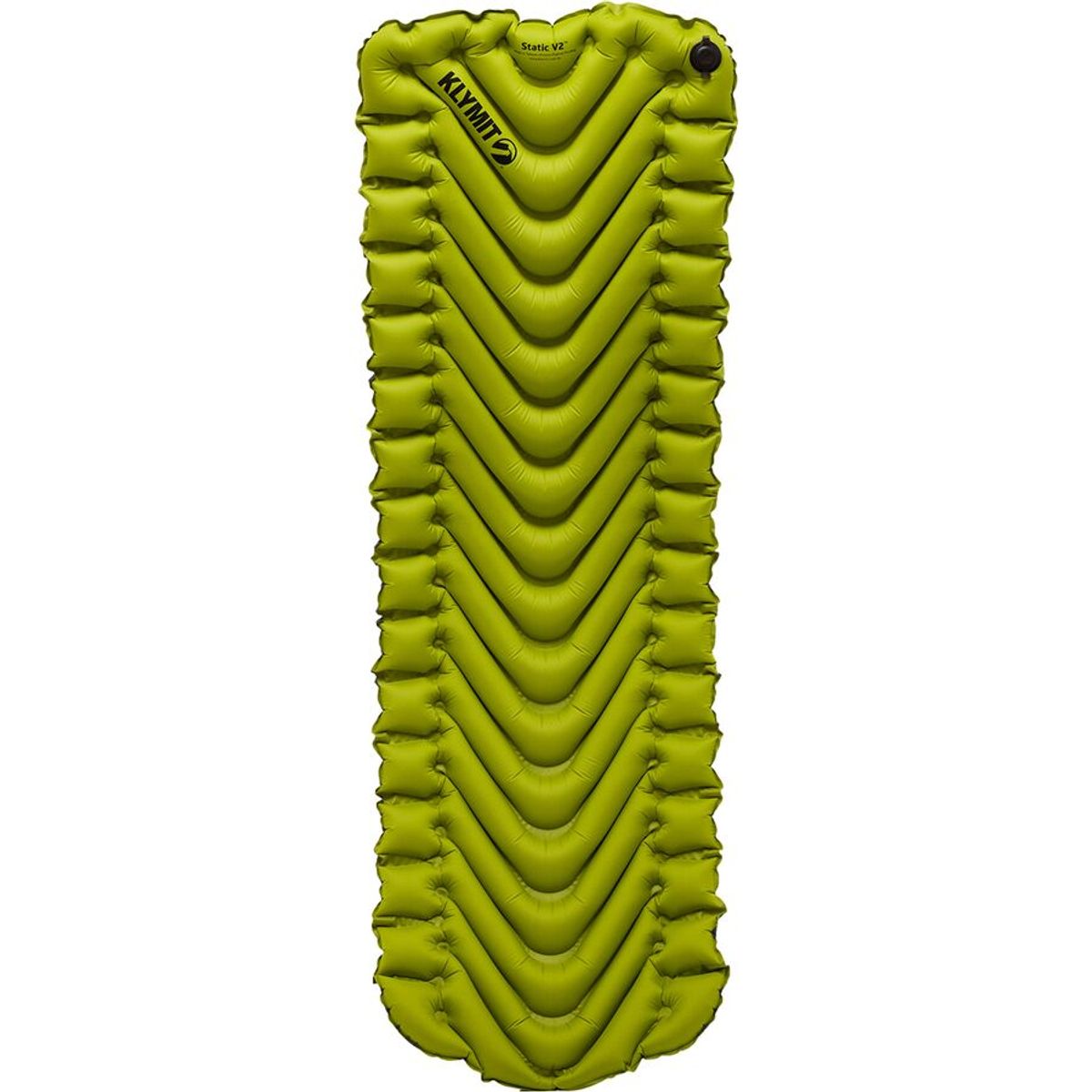 The Klymit Static V Lightweight is an excellent backpacking option that effectively balances weight, packed size, and comfort. At first glance, there might not be any stand out features to the Static V other than its compact size. It has the same V-shaped air chambers that limit air movement and heat loss. It also has the same raised side rails that keep you centered. The only difference is the R-value. The V-shaped baffling makes it stand out from many of the inflatable pads that are available.
The Static V Lightweight weighs only around 17-ounces compared to 19-ounces of Static V Lite. It also has the same low price that is a bang for the buck.
And yet it also has the same problems that the Static V Lite has. The squeaks it makes when you move. And it also has the same durability issues. The Static V Lightweight is almost identical to Static V Lite in every aspect except for the R-Value. So ultralight backpackers can rejoice!
Pros: The V-shaped baffles offer a very comfortable sleeping surface, and the pad is packable and provides adequate cushion and comfort.
Cons: Not enough insulation
12. ALPS Mountaineering Featherlite Air Pad
Thickness: 3.5 in.
Weight: 1 lb. 6 oz.
R-Value: 1
Dimensions: 72 x 23 in.
The ALPS Mountaineering is a nice choice when it comes to camping or backpacking in the summer. The pad is under 21-ounces and comes with a CPR-like air pump. It can be inflated easily using the pump and can be inflated to 3.5-inches. The pad also packs down to a small size.
The pad is made of ripstop fabric and it is durable and be used directly on the ground. The deflation valves are also brass adding to the durability of the pad. While the horizontal baffles on the pad provide good comfort.
However, with collapsed edges and a 20-inch width, some people find this pad very narrow. The pad has a low R-value limiting it to the summer season only. Using the pad with a foam pad is not a good idea because it weighs more than many other pads available and they are a better option.
Pros: Lightweight and easy to inflate with a built-in CPR-style pump.
Cons: Warm weather use only due to low R-value.
13. Exped SynMat 7
Thickness: 2.8 in.
Weight: 1 lb. 14.2 oz.
R-Value: 4.9
Dimensions: 72 x 20.5 in.
SynMat 7 provides outstanding comfort. The vertical baffles on the pad are more comfortable and feel less bouncy compared to the other sleeping pads with the same design. It also has raised edges to keep you centered. The design feels wider than the rest of the competition.
SynMat 7 has an R-value of 4.9 making it usable for all seasons. The SynMat also comes with a built-in pump so it makes it easier to inflate. The pad is made of the most durable materials that an air pad can be made of and if used with care, can outlast any other pad on the market.
The one and the only problem with the SynMat 7 is its weight. The pad weighs a hefty 30 ounces. That is equal to the weight of a summer pad and a foam pad combined. It also takes up about four liters of space when packed. So it is by far the heaviest and the bulkiest among any other pad on the market.
Offering sprawling comfort and warm synthetic insulation with vertical sidewalls for a wider effective sleeping space, the Exped SynMat 7 is a great pad to take camping, backpacking or trekking.
Pros: Comfortable, easy to inflate/deflate, provides good insulation from the ground
Cons: Bulky
14. Outdoorsman Lab Ultralight Pad
Thickness: 2.2 in.
Weight: 1 lb.
R-Value: 2.2
Dimensions: 72 x 21.6 in.
The Outdoorsmanlab Ultralight, as the name suggests, is ultralight. The pad weighs around 17-ounces. It inflates easily and packs small for easy carriage taking up less space. The diamond shape cell design eliminates the edges collapsing. The fabric of the pad is soft and very easy to inflate. The one-way valve prevents air loss while inflating and the pad deflates when you press on it.
The pad is thin which makes it flexible. However, this thin design makes for cold spots and doesn't give much protection against the ground. The fabric is made of 30 denier nylon that doesn't make it much durable against sharp objects. However, it holds decently but having a repair kit with you is a good idea.
The pad has an R-value of just 1.3 that makes it unsuitable for cold weather. So if you are a person who usually hikes in the summer, then the low R-value won't present itself as an issue for you.
Pro: Great bang for your buck, packs down super small, and comfortable
Cons: Not warm enough for cold weather.
15. Fox Outfitters Airlite
Thickness: 3.5 in.
Weight: 1 lb. 8 oz.
R-Value: 1
Dimensions: 72 x 20 in.
The Fox Outfitters Airlite is one of the great sleeping pads for the price they offer. The pad comes with an integrated foot pump. It is easily inflatable and inflates more than 3 inches providing good protection against the ground. This is a good option for side sleepers.
The material is made of Diamond Ripstop which is tear-resistant. The airflow system also uses double brass valves adding to durability. The horizontal baffles are stable. But of course, that means collapsed edges. But the Airlite is a 24-inch wide pad. So it has a good space.
However, the Airlite has an R-value of 1. So this is not a pad that you should be used for camping or backpacking in winter. You can still add a foam pad for insulation. It's not like the Airlite is too heavy.
Pros: The material is nice and not too slippery, inflation/deflation is easy and fast, the price is very affordable
Cons: Little narrow, if you toss and turn you will not be comfortable as you will constantly have to readjust the mat when you turn.
Sleeping Pad Considerations for Side Sleepers
Although most sleeping pads will work fine for side sleepers, there are still some things you should consider before buying a sleeping pad that will prevent you from making the wrong choice.
Thickness
The most important thing to consider is the thickness of the pad. As mentioned above, the weight is concentrated on a narrow base. This makes the shoulder and the hip joint, a pressure point. Usually, the pads with a thickness of 3 or more inches are recommended for side sleepers so that it provides adequate protection against the ground.
Durability
Durability for a side sleeper matters a lot. Since your body will be exerting the force on a small surface area, your pad should be able to withstand pointy rocks and twigs on the ground. You wouldn't want to be using your repair kit now and then. Choose a pad with a strong fabric.
Weight and Packing Size
The weight of the pad matters as you wouldn't want to drag extra weight with you, especially when you are packing ultralight. Similarly, the pad should also pack small and shouldn't take much space in your backpack for efficient space management.
Shape and Size
Usually, the width of the pad doesn't matter for a side sleeper. But the length of the pad matters. Make sure to choose the size that compensates your body completely. If you are an active sleeper and tend to roll around in your sleep, then you should have raised edges to keep you centered.
Warmth and Comfort
How much insulation your pad should provide depends upon the weather of your outdoor destination. For colder weather, pads with higher R-value should be chosen and vice versa. Your pad should also provide adequate comfort for a good night's sleep. If you are a light sleeper, then you should keep in mind that your pad shouldn't make much noise when you move on it.